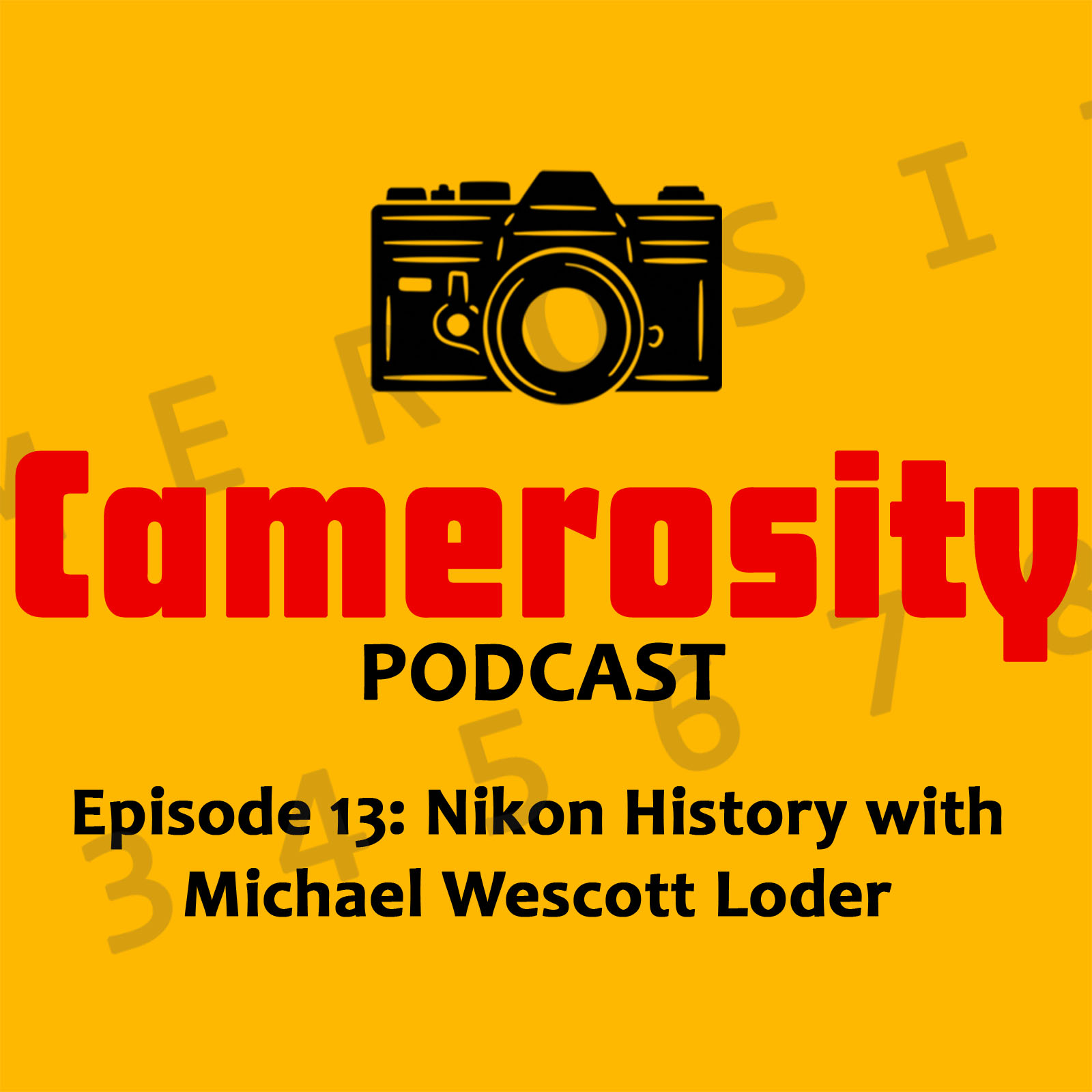 This week's episode of the Camerosity Podcast is one for the ages.  Michael Wescott Loder, Nikon historian and author of "The Nikon Camera in America 1946-1953", joins us to discuss a huge number of topics regarding Nikon's history along with the Zeiss-Ikon Tenax II and a huge number of other cameras that he is interested in.  We go over everything from Nippon Kogaku's role in the post war Japanese camera industry, why they were successful and Canon wasn't, Nikon rangefinder prototypes, and a whole lot of other interesting topics.
But wait there's more...
Also joining in on the discussion is none other than president of the Nikon Historical Society, and fellow author, Robert Rotoloni jumps in to add his thoughts and ask some questions of his own.
I'm not done yet....
Returning from episode 8, author of "Making Kodak Film", Robert Shanebrook surprises us with a visit to participate in the discussion and ask some questions.  Rounding out our guests are Mark Faulkner, Nick Lyle, and Miles Libak!
Next week, we will return with Episode 14, so look out for the Episode announcement this upcoming Sunday, November 28th!
This Week's Episode
Wes Bought a Nikon S2 to Photograph in Caves / How Wes Got Started Researching Nikon
Tenax II / Akarette / Akarelle / AGFA Ambi Silette / Lordomat
Why Was Nikon So Successful?  Why Didn't Canon or Pentax Have the Same Level of Success?
Why Did Zeiss-Ikon Make the Tenax II? / Which Came First, the Tenax or Robot?
Hubert Nerwin, Zeiss-Ikon, the West German Camera Industry, and the Kodak Instamatic
Why Didn't West Germany Have any Focal Plane SLRs like the Contax SLR?
Zeiss-Ikon Stuttgart Had to Rebuild After the War / East Germany Was Winning For a While
Nikon Saw the Best Success in the US East and West Coasts, Not the Midwest
Many Camera Companies Went Out of Business Between 1958-1962 / Differences Between Germany and Japan
German SLRs Were Hampered by Their Own Reliance on the Compur Leaf Shutter
Nikon and Canon Had Different Approaches Toward Making Rangefinders
The Nikon S2 Originally Had Knobs for Wind and Rewind / Only Black Dial S2s Can Be Motorized
Canon Made 33 Different Rangefinders Between 1945 and 1958
Why Was the Nikon F So Successful? / Why the Canonflex Failed
Nikon Model One Bellows
Did Nippon Kogaku and Eastman Kodak Ever Collaborate On Anything?
Tuberculosis Almost Killed Medium Format in Japan
Nikkor 50mm f/1.4 and f/1.5 Lenses
Nippon Kogaku Would Service Any Camera or Lens for Any Professional Photographer During the Korean War.
The Nikon F Was So Successful, It Killed the Nikon Rangefinder / The Nikon SPX and SP2 Was Built But Never Released
There Were More Canon 7 Rangefinders Made Than All Nikon Rangefinders Combined
Nippon Kogaku Also Worked on a Medium Format SLR and a 16mm Subminiature, None Were Ever Released
What Would the Japanese Camera Industry Look Like if Nippon Kogaku Never Existed?
Japanese Optics Companies Helped Each Other Out
Can Nikon Survive Today?
Smartphones Are Killing the Camera Industry
Color Film is Out of Stock Everywhere (Except for Theo)
When Nikon Made the Millennium SP and S3 Rangefinders, They Used 80-Year old Retired Guys to Train People How to Make Them
Robert Rotoloni Did the Foreward in Wes Loder's Book
Show Notes
If you would like to offer feedback or contact me with questions or ideas for future episodes, please email me at mike@mikeeckman.com
The Official Camerosity Facebook Page - https://www.facebook.com/CamerosityPodcast
Camerosity Instagram - https://www.instagram.com/camerosity_podcast/
Wes Loder "The Nikon Camera in America 1946-1953" - https://www.amazon.com/Nikon-Camera-America-1946-1953/dp/0786432217
"The Tenax II: Zeiss Ikon's Precision, Fast-action Camera" - https://www.amazon.com/Tenax-II-Precision-Fast-action-Camera/dp/138987821X
Wes's Blog - http://wesloderandnikon.blogspot.com/
Robert Rotoloni - http://www.nikonhistoricalsociety.com/p/rotoloni-book.html
Mark Faulkner - https://thegashaus.com/
Theo Panagopoulos - https://www.photothinking.com/
Anthony Rue - https://www.instagram.com/kino_pravda/
Paul Rybolt - https://www.ebay.com/usr/paulkris